Local Attractions
<![if !vml]>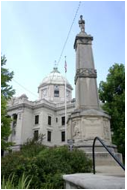 <![endif]>Bloomington is located 50 miles south of Indianapolis in the rolling hills of south-central Indiana. The city is has a population of more than 80,000 and is the county seat of Monroe County. Bloomington was established in 1818 by a group of settlers from Kentucky, Tennessee, the Carolinas and Virginia. The settlers were so impressed with "a haven of blooms" they called it Bloomington. In more recent times Bloomington has been designated as a "Tree City USA".
Bloomington is home to Indiana University Bloomington, the flagship campus of Indiana University's eight campuses statewide. Indiana University was founded in 1820 and is one of the oldest and largest state universities in America. Currently, more than 42,000 students attend IU Bloomington. The university is recognized internationally for its world-class contributions in research and the arts. Visitors can tour the impressive campus on foot, by car or bus, or go a virtual tour to see highlights of the campus.
<![if !vml]>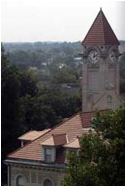 <![endif]>The city of Bloomington centers around the Courthouse Square, and the downtown area has a large variety of ethnic restaurants and specialty shops. A number of museums showcase the city's history, as well as the history of south-central Indiana.  More details are at www.visitbloomington.com.
Limestone, caves and parks
The Courthouse and a large number of university buildings are built of Indiana limestone.  Limestone from this area was used in the construction of such famous national landmarks as the Empire State Building, the Smithsonian Institute and the Pentagon. The area also feature a number of impressive limestone caves, such as Marengo Caves and the Bluespring Caverns.  The area has an abundance of natural beauty, including a number of Indiana state parks, nearby state and national forests, as well as city parks and recreation. Lakes Monroe and Lemon in Monroe County have become recreational centers for the state. Lake Monroe, created in the 1960's, is the state's largest inland lake.
Nearby attractions
Indianapolis, 50 miles north of Bloomington, is Indiana's capital and largest city. The city offers several fine museums, hundreds of restaurants, and many recreation opportunities, including White River State Park, and the Indianapolis Museum of Art. The west side of the city is home to the Indianapolis Motor Speedway, site of the "Greatest Spectacle in Racing," the Indianapolis 500.  The race is held on Memorial Day weekend.  Track tours are available when the track is not being used, from 9:30 a.m. to 5:00 p.m., call (317) 492-6784 for details.
Nashville, Indiana, 15 miles northeast of Bloomington, is a vibrant artist colony, with numerous small specialty shops.
Columbus, Indiana, 38 miles east of Bloomington is an architectural showcase, and features buildings and public art by such renowned architects and artists as I.M. Pei, Eliel Saarinen, Dale Chihuly and Henry Moore. The Smithsonian Magazine called Columbus a "veritable museum of modern architecture."