NUCLEI 2013 venue
<![if !vml]>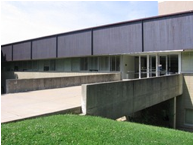 <![endif]>All NUCLEI 2013 sessions will be held in the Center for Exploration of Energy and Matter (CEEM), located in the Integrated Science and Accelerator Technology Hall in Indiana University's Technology Park North. Situated on the northern end of the campus, the Center is a multi-disciplinary laboratory performing research (experimental and theoretical) and development in accelerator physics, material research and nuclear physics and chemistry.
The laboratory is staffed by highly trained scientific, technical, and administrative staff members and serves approximately 110 on-site graduate students, postdoctoral research fellows and physics faculty members. In addition, research and development activities are carried out by scientists and students from around the world. The Center houses two linear accelerators, and numerous faculty research laboratories.
Click here for driving directions to the Center for Exploration of Energy and Matter.
<![if !vml]>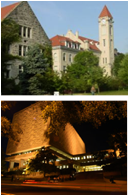 <![endif]>Founded in 1820, Indiana University Bloomington is the flagship campus of Indiana University's eight campuses statewide. Indiana University has a combined student body of more than 100,000 students, including more than 42,000 students enrolled at the Indiana University Bloomington campus. IU Bloomington is ranked among the top 100 universities in the world. Time named IU Bloomington its "2001 College of the Year" among major research universities. Indiana is one of 60 members of the Association of American Universities, the leading American research universities. Additionally, IU has over 110 academic programs ranked in the top twenty nationwide.
Thomas Gaines called the IU Bloomington campus one of the five most beautiful in the nation. Abundant trees, flowers, and Indiana limestone buildings dating back to the late nineteenth century cover the nearly 2,000 acres of campus.